Hère we are !
We finally passed Cabo de Gata quite easily and entered Alboran Sea. Then we had to wait three more days for the weather to calm down,  but after that we were able to go West steadily during several days.
We stopped in Marbella. It is a very touristy place, with big modern buildings,  but right behind our marina, there were those nice little houses which gave an idea of what it was like before.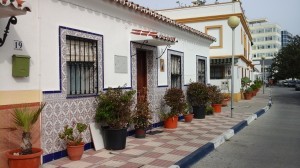 So,  after a few more days of sailing,  we reached Gibraltar.
Lots of dolphins accompanied us, but once more we did not succeed to take pictures.
So,  we are moored in La Linea, on the Spanish si de,  to go to the English side you must cross the airport running way,  Weird isn't it ?
Although Spain and England are two European countries, there is a border between both sides and you must show your passport.  And it is funny to see, as soon as you pass the border,  à typically british red phonebooth.
Here we met with Nouri, a friend of Gilles. Nouri is Iranian, but he has lived everywhere in the world: Malaysia,  New Zealand,  Sweden where he became friend with Gilles.  He is here to open a café in San Roque. It is nice to find a friend when you arrive in a forein place !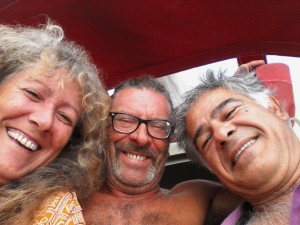 We were waiting for the good weather when we realised that we had a leak of sea water in the boat. It took us several days of investigation tout fin de the cause, à des finaly,  when we did, we had to take No Pasaran out of the water in order to repair.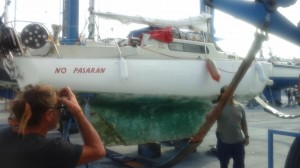 It was only a very little hole made by a screw pushed to far under a pedal pump.  But it had to be fixed.  This stupidity cost us 600 euros !
Never mind, now we are ready to go on. Next destination : Tarifa and Tanger,  a good couscous or tajine will be a nice change in our daily dit.